Club Update: 5 October 2016
CFA is gearing up for our Branch Shoot to be held on the 15/16 October so hopefully we will have a bit of dry weather to help us out!  See the information page below for shoot details: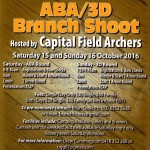 There will be catering for the shoot so please remember to check out the menu posted below and get early orders in to make things run smoother. Have a look at what is on offer and if you can it would be great if you could print it, fill it out then scan and email your orders through to the club contact email address: prescfacanberra@gmail.com. This would be a great help if we have some idea of what demand will be.
There is a working bee this Saturday 8 October to get things finalised for the Branch Shoot so any time you can spare will be appreciated.
Also a reminder for local (ACT) club members that it may be easier to pre-poll for the ACT Election which is on Saturday 15 October if you plan to be at the club all day.
A regular shoot is scheduled for this Sunday the 9th.  Once again a reminder that the format of the shoot may change on the day dependent on turn-out, conditions etc. The shoot director will decide on the day with input from those attending. Most likely will be a Hunter round with a mix of target styles as we have had trouble of late getting the 3D's out because of the wet and boggy conditions.
Also a reminder to potential members that there is a requirement to join ABA in conjunction with joining our club.  This is because we are fully affiliated with ABA and they cover members for public liability insurance while participating in club activities.  Fees are reasonable compared to a lot of other sports and other archery associations. There are concessional and family membership rates available.  Ask at the club if you need more information. Club fees are calendar year based, ABA fees are for 12 months or 3 years from when you join.
If you are a current financial member of Archery Australia or 3DAAA you can visit us for a shoot without having to join ABA.  This arrangement is under the Archery Alliance of Australia. You will pay the same shoot fee as other visitors.
CFA location direction (please click on the image for larger view).

Directions from Tharwa Bridge:
Turn left as you go over the bridge to Tharwa from  Canberra. Travel 1.7Km's along Naas Road. You will pass Cupacumbalong on the left, you will pass over a Ford, just past the Ford will be a Model Aeroplane club. On the left should be Smith's Road, it is signposted and has an Archery sign on it. Travel 3 Km's up Smiths road, the first 1 Km will be bitumen and then turn to dirt as you crest the hill. You will come to some high voltage power lines that cross the road. Just past this on the right will be the entrance to the archery club. It is sign posted.
Enter the gate and close behind you. 800m along the dirt road will be the Archery base camp.
Capital Field Archers is located at a scenic field range overlooking Namadgi National Park and nature reserves, along Smiths Road, south of Tharwa in the ACT. This is the home of the new CFA, and the good news is we have secured access to the land under an agreement managed by ACT Parks and Conservation.
 ______________________________________________________________________________